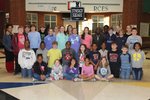 Great job!
Congratulations Duke TIP nominees for 2016-2017 School Year
Duke TIP nominees for 2016-2017 School Year
Announcement:
"At this time, we want to recognize the RCES 4th, 5th, and 6th graders that have been nominated for Duke TIP's 4th-6th grade talent search program. Duke University's Talent Identification Program offers academically achieving students opportunities to additional resources and programs to continually challenge the learner. This year's nominees were selected based upon their most recent test scores on acceptable assessments such as Pass, SC Ready, and Fall MAP scores for 2016.
Here are this year's Duke Tip nominees:
4th grade: Shakerria Carter, Tristian Jenkins, Jessira Smith, Claire Bishop, Cole Davis, Erica Glover, Jordan Hill, Faith Jennings, Paris Sheppard, Harlyn Welch, Jaden Platt, and Lydia Mendoza-Broome.
5th grade: Aylani Baker, Baley Bazzle, Malachi Green, Emyjae Hayward, Jha'Mauri McCreary, Trevor Black, Parker Bowen, Jason Rutland, Phoenix Sandifer, Amelia Stembridge, Susie Ulmer, Blythe Weaver.
6th grade: Gage Boykin, McGuire Bruner, Breanah Doney, Gabriella Green, Jacob Seth Linder, Marin Moody, Reagan Porth, Naci Proveaux, Emmy Ulmer, Grant Weaver, and Shelli Miller.