Pierre Fuller is the student winner of the October Proactive Incentive Movie Night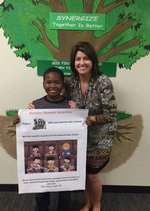 Pierre, enjoy your movie night!
Congratulations Pierre!
"Congratulations to Pierre Fuller in third grade for winning the October Student Incentive Award - a movie night out with his family! Pierre is a shining example of what a leader should act like!"