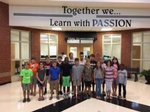 Duke TIP Nominees
RCES is excited to share our Duke TIP Nominees for the 2018-19 school year. Duke TIP's (Talent Identification Program) 4th-6th grade Talent Search is a non profit organization that helps student with excellent performance on a recent grade level standardized test to discover and explore their academic talents. Participation in the search is an honor, as very few students qualify.
Students nominated will have the option to enroll in the program which includes access to optional above grade level testing, enrichment activities, specialized publications, and eligibility to apply to TIP's educational programs. Once a student is enrolled in the program, they receive benefits through the end of sixth grade.
The 2018-19 nominees are:(Back row 5th and 6th) front row 4th grade, but not listed in order of pic).
6th grade: Cole Davis, Keely Milhouse, Landon Stanfield, and Faith Jennings
5th grade: Tanner jackobs, Georja Mosser, Garrett Wade
4th grade: Lexie Barnwell, Matthew Herndon, Camren Johnson, Kaylee Mann, Caleb Breaux, Benjamin Bush, Isabella Castellano, Darion Sease, Joshua Goodson, and Tyler Smit