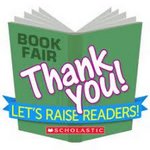 Thank you!
Parents/Grandparents/Guardians:
Thank you so much for supporting our September Scholastic Book Fair. Your participation helped to make it very successful. All proceeds will be used to purchase new resources for the library. The better our library resources, the more excited children are about reading and learning!
Grandparents and children enjoyed breakfast together and then shopped at the book fair. When families demonstrate an interest in reading and children have access to a home library, kids read more. Research shows that reading has a positive influence on academic achievement. By synergizing or working together, the home, school and community can positively impact our students' education by instilling a love for reading.
Thank you again for your support and generosity.
Happy reading! Ms. Becky